Mother's Day is just around the corner! On 11th of May every mother must be honoured! (and not only on this day). And like every year, you should not go to her with empty hands. Of course, even one flower bouquet is enough to say thank you to your mom. But we want to make something special for Mother's Day: something homemade! Therefore, we give you 18 lovely homemade Mother's day gift ideas that will bring a smile on your mother's face!
Homemade Mother's day gift ideas with flowers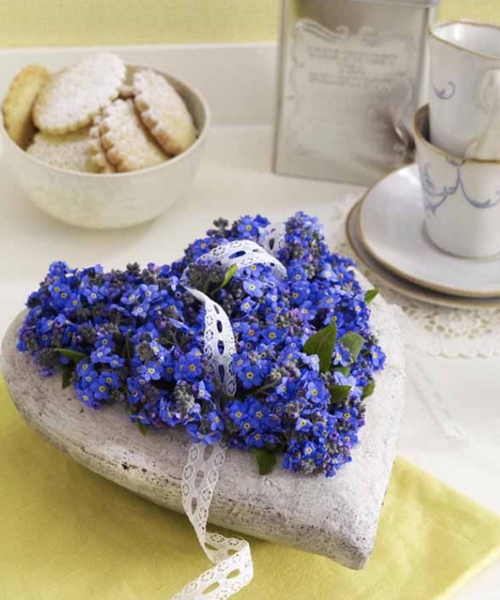 Flowers are classic gifts for Mother's Day, but this heart of lovely forget-me-not flowers is something different. Soak a floral foam in water. Cut it in a heart shape to fit the container. Make holes for the tender flower stems with a skewer. Shorten the stems with a knife at an angle and stick them into the holes until the heart is fully covered with flowers.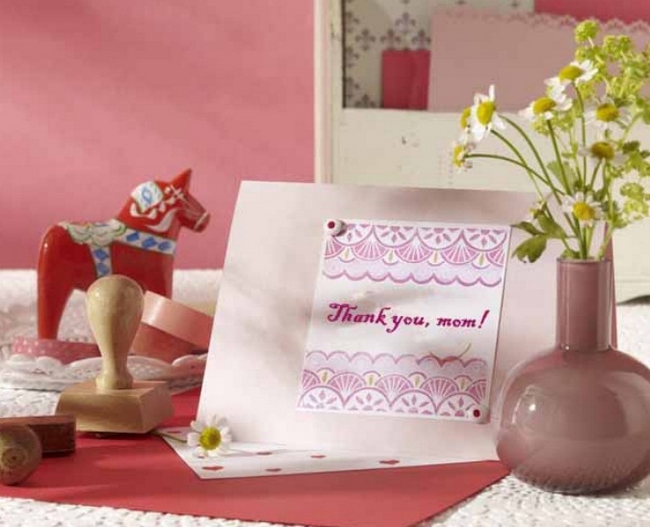 Words are sometimes more beautiful than deeds! Just write a few kind words to your mother – it will certainly touch her.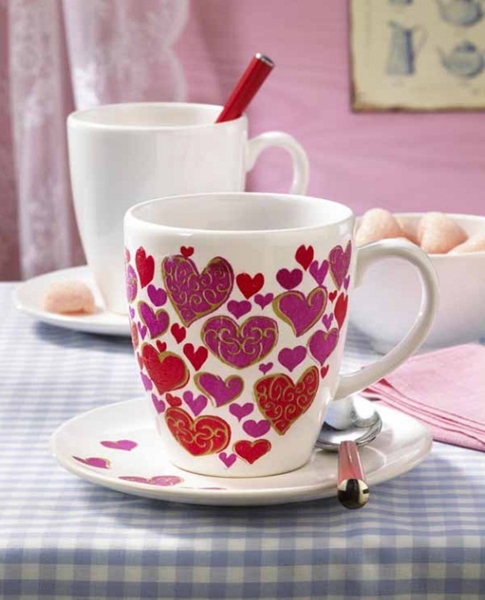 If mom is passionate coffee drinker, she should probably grab every morning a coffee mug that reminds her of you. Cut out the motifs from a napkin. Remove the top layer of the napkin and put in on a dry, ceramic mug. Brush over them a decoupage glue. Move the brush from the center outwards. Let it dry for 4 hours. Bake in the oven according to manufacturer's instructions and leave to cool.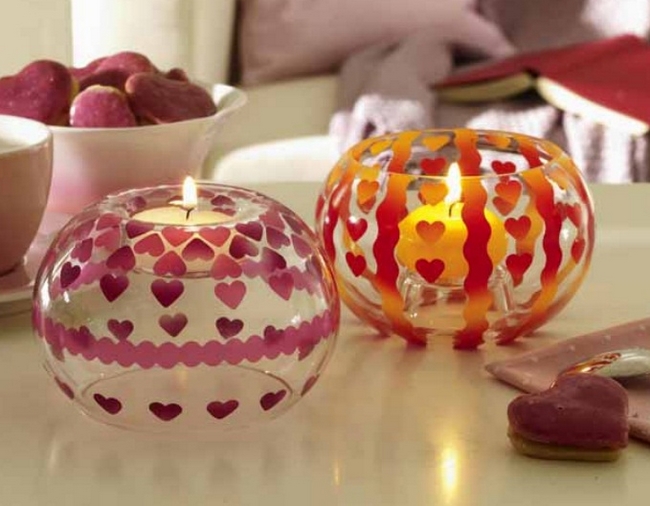 Embellish glass candle holders so that your mother can receive something really unique from you. Punch hearts from a decorative foil and cut a long narrow strips. Put them in water until the film solves from the backing paper. Stick the wet hearts and stripes in the desired position on the candle lanterns and smooth gently with your fingers. Wipe gently with a soft cloth.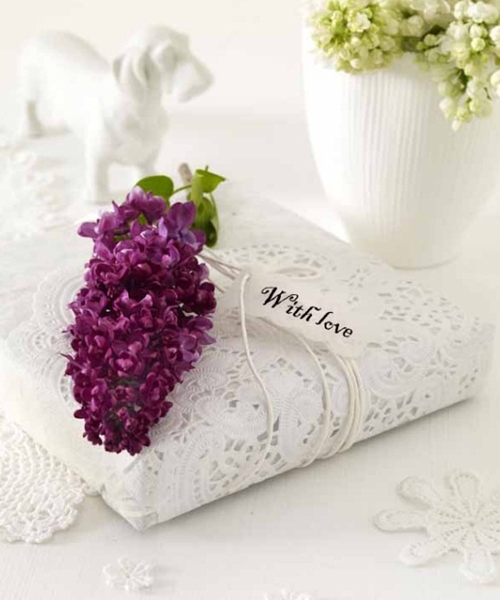 Your mom would be very pleased with a purchased book from her favorite author. Make the wrapping paper from cake doilies, wrap loosely a white ribbon around the book and place a lilac under it.
homemade Mother's day gift ideas and crafts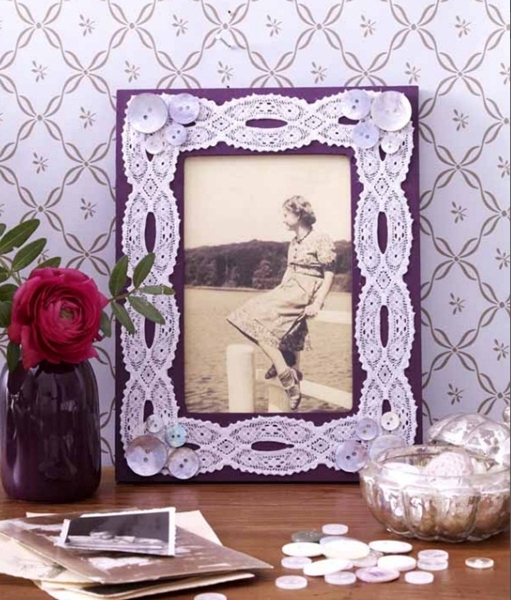 An old photo with your mother could be beautifully emotional. Paint an old picture frame purple. Glue lace on the frame and three buttons on the corners.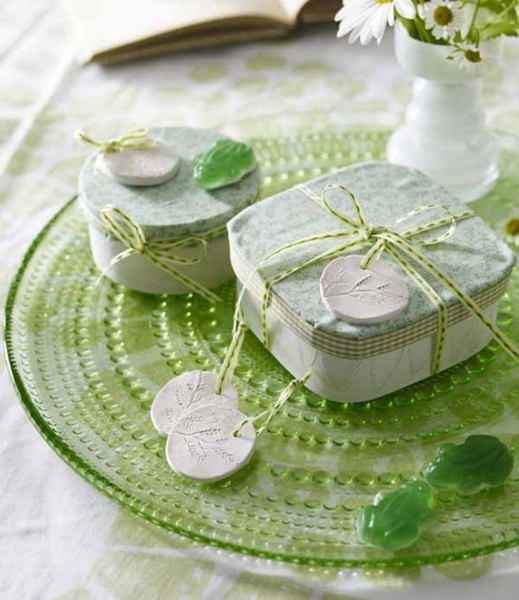 Not only the gifts for your Mom should be handmade, but also the packaging can be designed creatively. Here we have created small pendants with grass imprint. Roll out a thin layer of the modelling clay and cut out with a round circle cookie cutter. In this circle make an imprint of grass stalks by pressing it in the modelling clay. Remove the stalk and repair with a toothpick the damaged spots. Drill a hole in the pendant and thread a ribbon through it. You could paint the pendant in a desired color.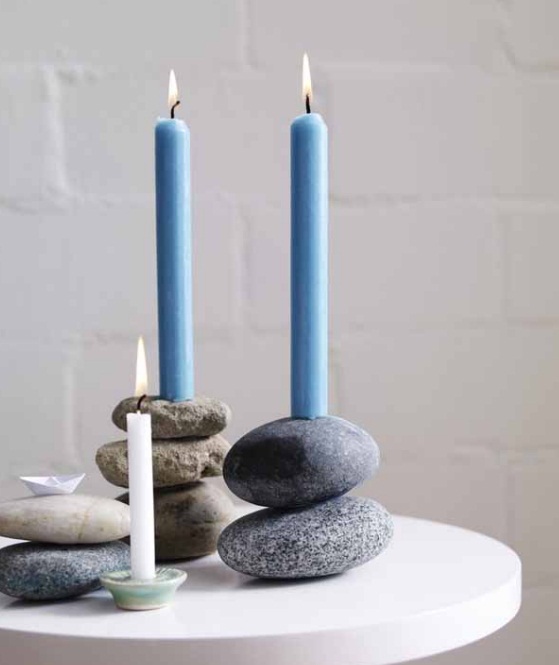 Your mom is into the natural look? Then this candlestick made ??of flat stones could be just the thing for her. Glue two stones over each other with a hot glue gun. Melt a bit the end of the candle and then press to the stone.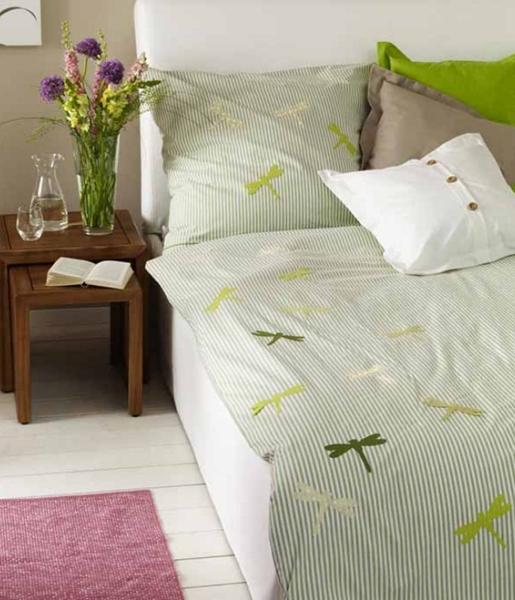 This bedding will provide your mother with dreams of summer. Apply double-sided iron-on adhesive on the wrong side of the green fabric. Draw several dragonflies outlines on the fabric and cut out. Remove the foil of the iron-on paper and iron the appliques to the bedding.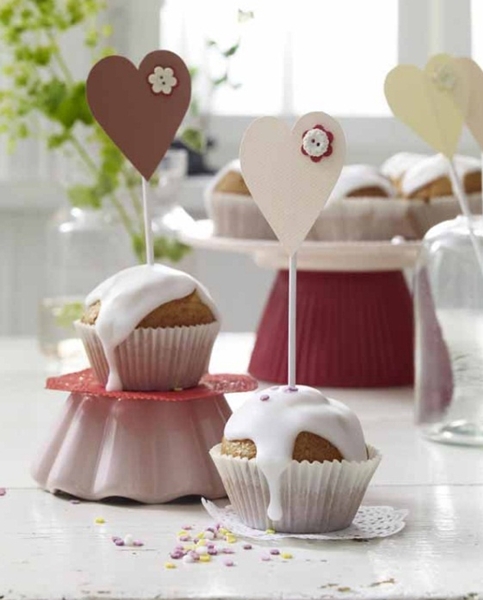 Love goes through the stomach – even for our Mommy! So just bake some delicious cupcakes and decorate them with heart cupcake toppers. Draw and cut out two paper hearts and punch small flowers. Glue a flower and a button on the heart and attach it to a skewer. Stick it in the cupcakes.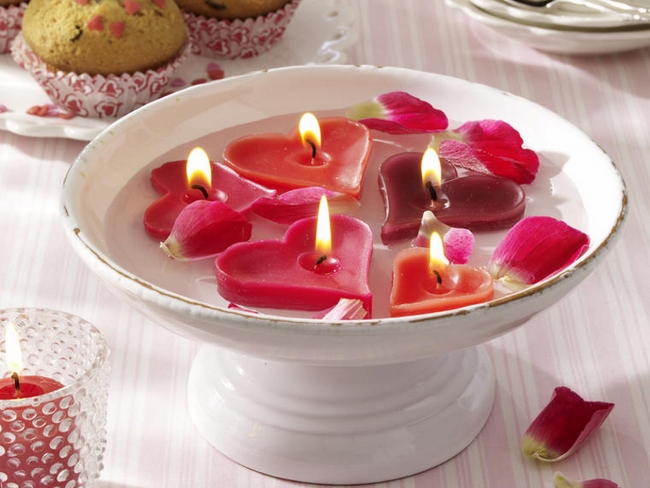 A very personal gift for Mother because these heart-shaped candles are handmade. It is very easy. Melt wax in a water bath in separate boxes or pots depending on the color. Wrap two cookie cutters in aluminum foil and press the edges so that the wax does not leak. Pour liquid wax into our molds, stick a wick in their middle, balanced between two wooden skewers, and let dry. Get the candles out of the molds and arrange them in a bowl of water with flower petals.
A nice breakfast in bed on a tray for the best mother in the world!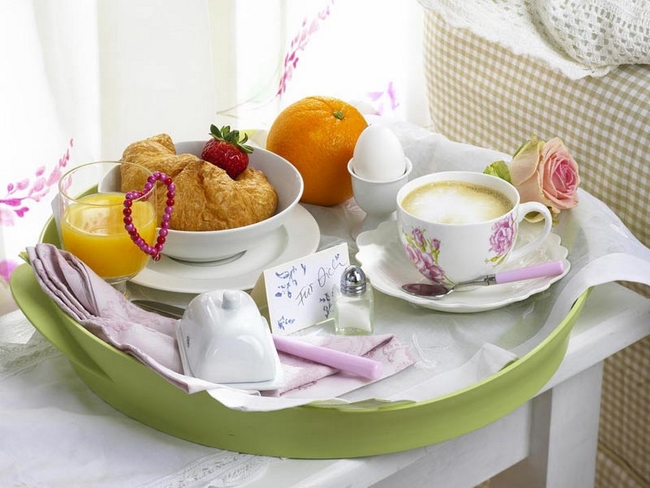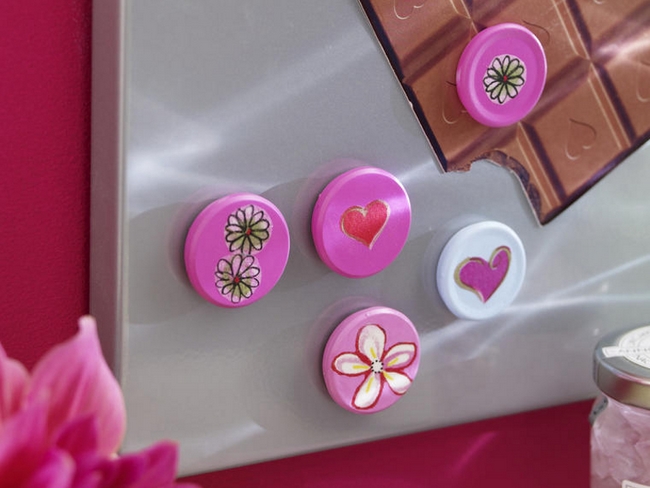 A small but nice gift idea for Mother's Day – hearts and flowers give a memo board for notes that certain something. Paint magnets with pink acrylic paint. Allow to dry. Cut out the motifs from napkins (a heart and a flower), remove the top layer of the napkin and place it on the magnet. Apply decoupage glue with a soft brush, and move gently from the inside to the outside through the motif. Let dry.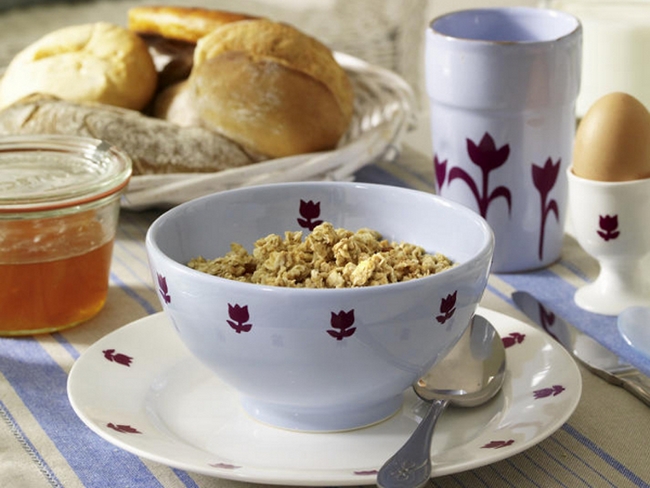 These tulips give the coffee set a very spring fresh look. We all love flowers!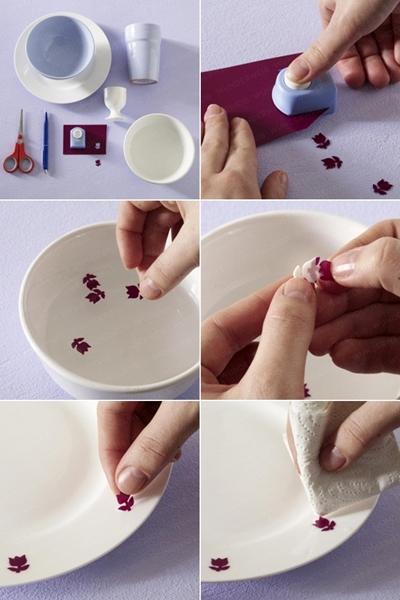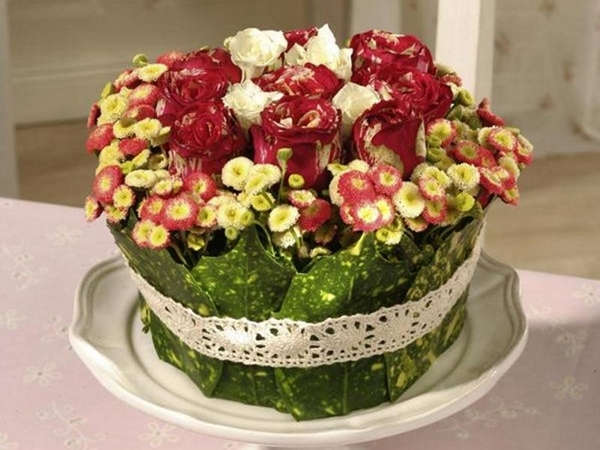 Flowers say more than 1000 words! Not another Mother's Day bouquet, but a lovely flower cake. Not edible, but just great to watch.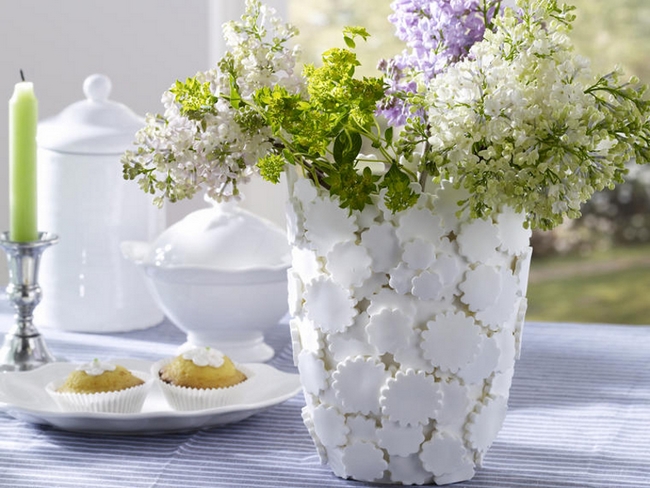 Personalize a flower vase with modelling clay. Roll about 0.5 cm thick layer and cut out lots of small flowers with a cookie cutter. Lift the flowers with a knife and glue them with a hot glue gun on the vase. Make several layers to give it a nice 3D-effect.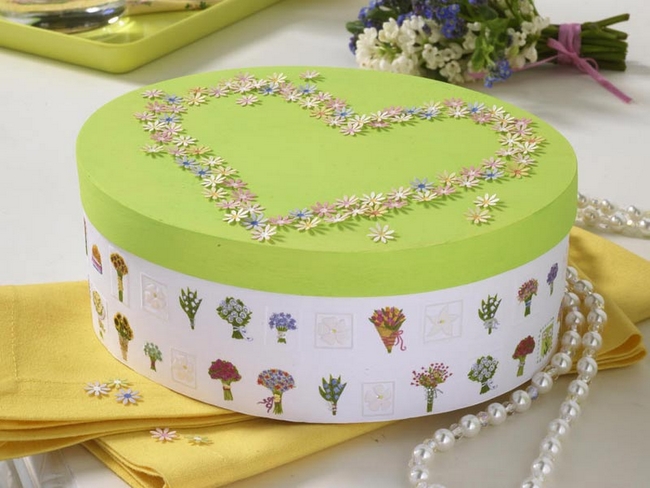 In this lovingly decorated jewelry box she can keep her favorite pieces. Or just to serve as a gift box
on Mother's Day.
origin: http://www.diy-enthusiasts.com