If you are eco-minded and want to save nature any other waste with which to deal recycle old plastic bottles and turn them into useful and effective tool home. Here are a few ideas.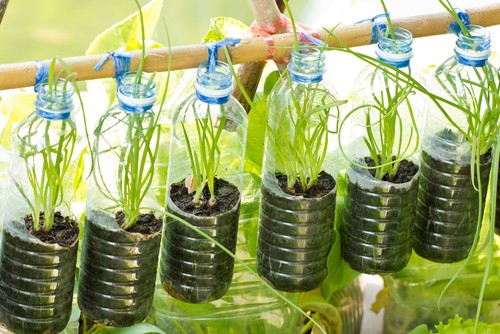 Old plastic bottles are particularly useful in the garden. You can use them for irrigation as Pierce bottom and bury them in the soil, where the plants will take their daily dose of water. Another option is to drill a few holes along the length of the bottle to bury it slightly into the soil to be more stable (holes must remain outdoors) to slip into her hose and run water. Already have ready for the garden sprayer.
Gallery "Ideas with plastic bottles"

If you cut a plastic bottle in half, you can use the bottom for growing seedlings and smaller plants. Top turn can put on plants to create a greenhouse effect and they bloom earlier.
Old plastic bottle you can use to make a bird feeder. For this purpose, cut a circle in the middle of the bottle so that the sparrows have nowhere to land. Fill the bottle (to cut part) with food for birds. Finally, hang it with string or wire to a branch.
Home can also use old plastic bottles for storing and organizing things. Most bottles are convenient , the bottom of which resembles the 4 plastic feet.
Cut the bottom of several bottles, glue them to each other and use them as an organizer for jewelry – bracelets, rings, earrings. If you cut bottom paint in white and blue , you 're fine crafted toys tree resembling snowflakes.
The other option is to cut two bottles in the middle. Take their two bottom zipper and glue. Tape the zipper so that you connect the two parts of the bottle. Already have a box ready for giveaways .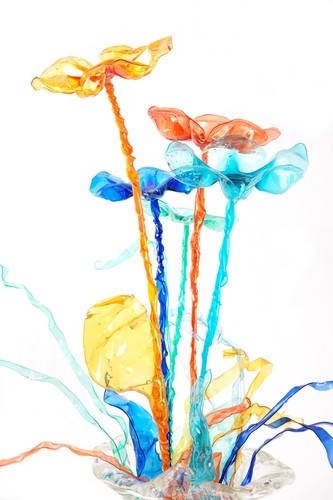 The plastic bottle can be used for storage of pencils, pens, crayons and other supplies to the nursery. Not to worry, there is danger that a child can hurt the brim, you can put it in a few seconds with the cutout to a heated iron or stove. Thus the plastic will soften.
Of empty plastic tube can make wicker basket in which to hold the yarn. Cut the neck of the bottle and do some cross sections and then begin to spend them in a thread of colored yarn. The idea is to hide the plastic tube under the strings. The other option is to simply "put" tube with an old pillowcase.
To cover ordinary kind of empty plastic bottle, use thread of yarn, string or sew sleeve of an old shirt.