Almost every newer home has a small closet, which can store various household. How to make the most of the small closet space and what can I use it?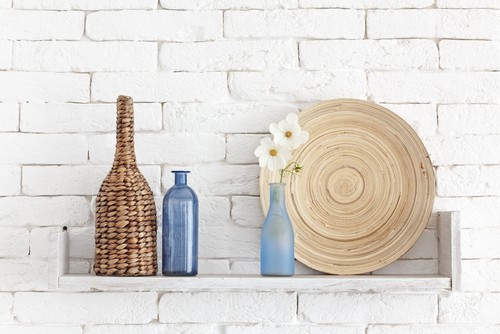 Do not ignore the small closet when it comes to furniture and home decor . If you leave even seemingly tiny room without being painted or arranged in the style of the entire house , it will look like a " patch" that you left unfinished.
Choose a neutral color for the small closet, you want to engage in a certain style décor and still do not know what you use the site . Ideal for this purpose, sand and gray tones . Another option is to act boldly and to paint the small closet in bright and noticeable color, so using the contrast to highlight the room from the rest. Fuchsia , grass green tyurkokazeno or have a similar effect .
The function of the small pantry depends entirely on your needs. No matter how modest are its size, it can always be useful. The small closet can serve as a laundry room – if width is greater inside can locate one another washer and dryer.
If you do not have much space to the side, but has high ceilings, then put the dryer on laundry. The third option is to mount the combined model over him to put the shelves with detergents, baskets with fresh towels and the door can mount a textile basket dirty laundry.
Gallery "Laundry room"
The small

closet

can easily be

transformed into a

mini

office

.

Enough

to fit

desktop

to

use

instead of

a desk

,

a shelf

of one of

the walls and

cork

boards for

more

convenience.

To save space

lighting

, install

spotlights

on the ceiling.

Pencil

on the counter

,

trash

and pictures are

sufficient

to complement

your

cozy office

nook

in the closet.
Gallery

"

cozy office

nook

home"
Use small closet organization of food and if you have not particularly spacious kitchen . Cans , jars and baskets help the arrangement of individual products , so make the most practical place . We encourage you to keep a list at the door with everything you store in your closet , as sometimes you can forget that you have a product. Furthermore it easier to navigate when it comes time for great shopping .
The modest size of a small closet are ideal for mini workshop or hobby area. Keep metal tools magnetic rails mounted on the wall , small parts – in jars of baby puree bigger things – in suitcases . You need the desktop. But most people use small closet to store old things . We encourage you to keep all in labeled boxes or transparent boxes to always know what's in them . Moreover, at least once a year and check clearing to a place for "new" recruits.
The small closet can easily be transformed into a mini office. Enough to fit desktop to use instead of a desk, a shelf of one of the walls and cork boards for more convenience. To save space lighting, install spotlights on the ceiling. Pencil on the counter, trash and pictures are sufficient to complement your cozy office nook in the closet.