Having examined trends in furniture and decor of the other major areas of the home, now we look to the living room. See what should be the living room in 2015.
Introducing the 5 top trends for furniture and decor of the living room for 2015.

Neutral color palette.
If the trends in the bedroom for 2015 included a dramatic saturated colors, then the living room, they are the complete opposite. With the advantage enjoyed neutral shades like gray, cream, caramel, sand brown, beige. The idea is that the furniture with beautiful design are becoming the focal point of the room and this is the perfect backdrop against which they can excel. It is noteworthy also that some shades of green are also creeping in as the choice of color for the living room.
Colorful furniture.
Sounds strange, considering the previous trend, but if you're a fan of restrained colors, then take advantage of this – furnished living room with colorful furniture. Sofas and chairs in custom colors such as bright red, mustard, forest green, and why not even purple or electric blue. Colorful furniture are ideal if you're a fan of eclectic style home or you're into art decor.
Design ideas for living room.
large windows.
Wide and large windows, French windows from floor to ceiling or even a glass wall – living room in 2015 opens to more sunlight. Moreover thus have a wide choice of decor with textiles. Use windows to buy beautiful drapery, fancy drapes or blinds modern.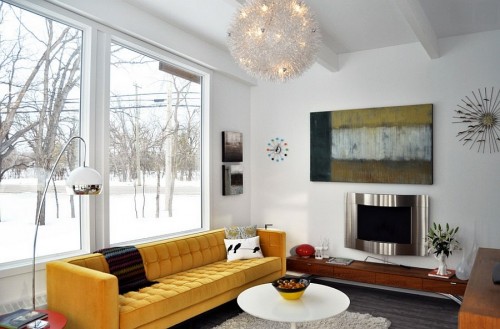 Accent Wall.
In 2015 the walls in the living room should not remain empty. Some designers even turn them into goals galleries – from paintings, photographs, works of art. Furthermore, there is no rule for the same frames or special arrangement, so that you have more leeway. If you do not like to be cluttered with photographs or landscapes, then the backup option Wallpaper Mural on a wall in the living room.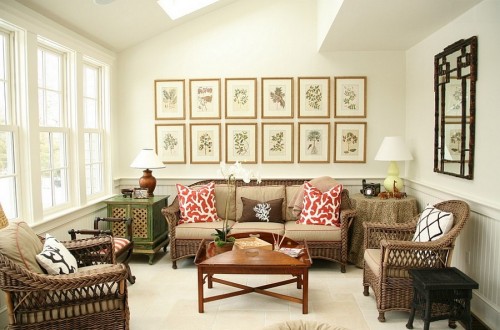 large library.
All who love to read, probably in ecstasy of this trend, because in 2015 one wall in the living room can easily be released to a large library, laden with books. The only recommendation is that its design is slightly broken – sloping shelves, open squares, interesting color. If that can not afford this extravagance dose, then try the original layout of your collection.