One of my favorite things to do when a holiday approaches is make my own crafty decorations for my home. I love to create handmade garlands because they are easy to make for any holiday or special occasion and you can put them up almost anywhere in your home.

Hang them in a doorway, a window, chandelier or just on your wall. With Valentine's Day just a few days away, I thought I'd make some pretty paper heart garlands to hang in the window of my living room. I chose to use an MOL Heart Tag with one of my favorite Beatles' quotes, "Love Is All You Need." I used the tags together with paper hearts in reds and pinks to create this sweet decoration.
Supplies Needed:
• Cardstock in red and pink colors (I used scraps I had on hand)
• String
• Scissors
• 1/8″ Hole Punch
• Personalized MOL Heart Tag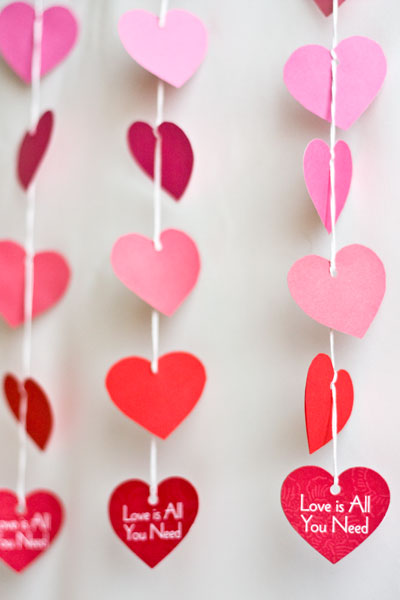 First I took my MOL Heart Tags and glued them together back to back (so they would be double sided). Then I used the tag to trace a heart shape onto my cardstock scraps. Using scissors I cut out the hearts and punched a hole at the top of each one (to match the heart tag).
Next I strung everything together. Starting with my "Love Is All You Need" tag, I created a color gradation of hearts, going from deep red up to light pink. I tied a little knot around each paper heart to hold them in place as I threaded them, creating a nice garland strand. I made about a dozen strands to hang in my window and they look so so sweet!
Image Courtesy: https://www.evermine.com/blog/diy-paper-heart-garland/
Source: https://www.evermine.com/blog/diy-paper-heart-garland/