I just had to distribute the purple elephants with you guys, they are so darn adorable I can't stand it. I have no excuses. A few years ago this would have been unheard of! But at the instant it's an hapless margin-issue of my life.
I think they might be my favourite of all the living being macarons I've made so far (though the cats are a close second).
The last baking I did was for a at a high price confidant's bridal in January, they asked me to make some personalised macarons for them and I was super excited to make something specifical.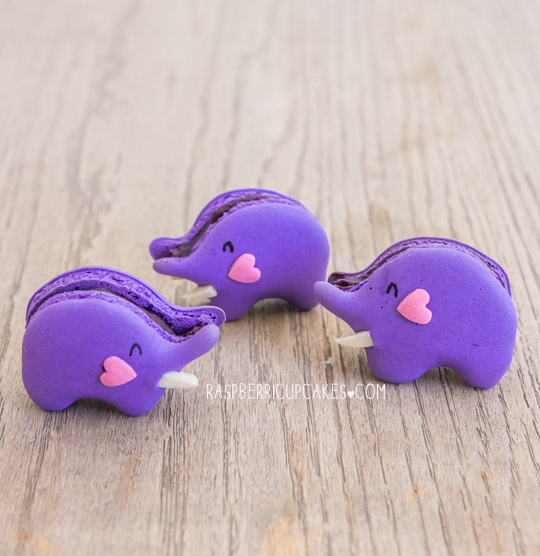 The requested macarons were purple elephants and black skulls, which was quite an entertaining defy. Not only have I not blogged in almost a month, I port't baked in almost as long.
They were also the hardest to pipe, I had to use a stencil on my baking document for the first duration.
Anyway I in conclusion got off my bum and edited the few shots I managed to grab of these little dudes before I shipped them off to the marriage, so here you go I made about 80 of these stumpy, cute, greasy little elephants, which was a rather slow and painful progress.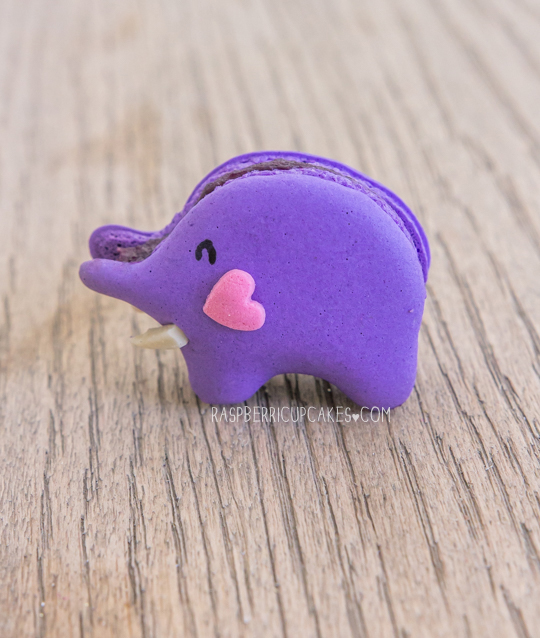 The tusks are made from slivered tonsils (I was pretty egotistical of this, I had a piece of a lightbulb instant in a supermarket walk while trying to conformation out what to use), and the ears are massive organ of circulation sprinkles. The filling was a blueberry ganache, while the ebon skulls (I didn't remember to take any photos of them unfortch) were filled with a mango buttercream.
I think (reliance) the macarons went down well at the marriage ceremony. But totally integrity it in the end.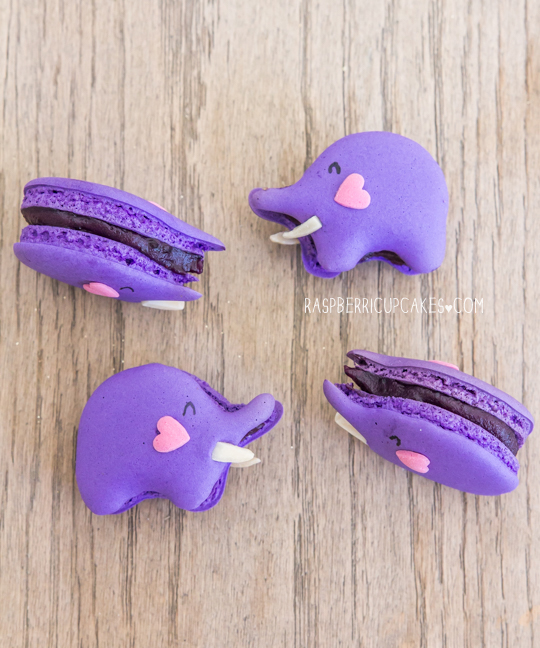 Blueberry Purple Elephant Macarons
(recipe adapted from Trissalicious)
For the macarons:
Note: this method uses an Italian meringue. If you prefer, you can continue to use theFrench method I normally use. If you are a beginner with macarons read up and practice plain macarons first. BraveTart has lots of useful advice and info on the subject
Almond Meal Paste:
125g almond meal
125g icing/confectioner's sugar
50g egg whites
Italian Meringue:
125g caster (granulated) sugar
35g water
50g egg whites
Pinch of egg white powder
Purple powdered/gel food colouring, heart sprinkles and slivered almonds + black food colouring to decorate
To achieve the elephant shape, I cut an elephant shaped stencil out of cardboard and traced the shape on to sheets of baking paper for piping. Remember you need to make half the elephants piped to face the left, and the other half to face to the right so that you have mirror images that can be sandwiched together.
In a food processor, blend the almond meal, icing sugar together for a minute, then add egg whites and blitz for a couple seconds to form a paste. Set aside.
To make the Italian meringue, place the caster sugar in a saucepan.  Add the water and make sure that the sugar is dampened.  Heat the mixture and bring this to a boil (do not stir).  Place a candy thermometer in the syrup and take the temperature of 118°C (245°F)
While the sugar is cooking, beat the egg whites and egg white powder using a stand mixer fitted with a whisk attachment and beat at medium speed until the eggs become foamy. Continue beating on high until stiff peaks form.
Stop the syrup from cooking once it reaches 118°C (245°F) and take this off the heat and let the bubbling subside for a few seconds.  Pour the syrup in a thin, steady stream over the beaten egg whites while the continuing to whisk at medium speed.
When all the syrup has been added, (add food colouring here) continue to beat until glossy and meringue has cooled to room temperature (around 10 to 15 minutes).
Using a silicone spatula, fold a third of Italian meringue into the almond mixture to loosen it.  Then, fold in the rest of the Italian meringue.  (You really want to beat all the large bubbles out of the mixture, which is easily done by smearing the mixture on the bottom and side of the bowl with your spatula) Continue folding and stirring until the batter is glossy, and fluid. Take care not to overmix, the mixture should flow like lava and a streak of mixture spread over the surface of the rest of the mixture should disappear after about 30 seconds.
Place 1/3 of the mixture in a piping bag with a very narrow tip (1-2mm) and the remaining mixture in a piping bag with a slightly wider (about 0.5cm) round piping tip. Use the wider tipped bag to fill in the body of the elephant, then the narrower tip to add on the legs and trunk of the elephant. Tap baking trays carefully and firmly on the benchtop a couple times to remove any large bubbles.
Decorate each shell with a half piece of slivered almond for the tusk and a pink heart for the ear (if you can't get big enough sprinkles, you can also use rolled pink starburst chew lollies or pipe royal icing on the baked shells).
Leave to dry for about 60 mins, until when you press the surface of one gently it does not break/stick to your finger. This will help prevent any cracking and help the feet to form on the macs.
Preheat your oven to 130-150°C (265-300°F), depending on your oven (fan-forced ovens may need to be set as low as 100°C, it really depends) . You can place the tray of piped shells on top of an upside-down roasting tray or another baking tray, for better heat distribution.
Bake for 15-20 minutes. Carefully test if the base of the shell is ready by gently lifting one and if it's still soft and sticking to the baking paper, then it needs to bake for a few minutes longer.
Remove from the oven and cool on the tray for a few minutes, then gently remove from the sheet and place on a wire rack to cool completely.
Use a black edible ink pen or a skewer dipped into black food colouring to draw on the eyes.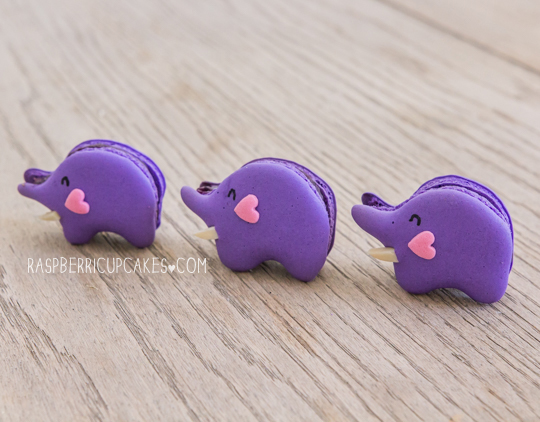 For the Blueberry Filling:
Note: You can replace the blueberry sauce with store-bought blueberry jam to save time
100g (1.7oz) blueberry (fresh or frozen), pitted and diced
 3 tbsp sugar
 2 tsp lemon juice
A few drops of pure vanilla extract
3 tsp cornflour (cornstarch) + 1 tsp cold water
3 tsp powdered gelatine
100g (3.5oz) good quality white chocolate, finely chopped
Prepare the blueberry filling first; place blueberries, sugar, lemon juice and vanilla in a small saucepan and place on medium heat. Stir over heat until sugar dissolves.
Mix cornflour and water together in a separate small bowl then add to the saucepan with gelatine powder and stir over medium heat until mixture thickens and gelatine dissolves, about 2-3 minutes. Set aside to cool then blitz mixture in a food processor.
Place blueberry mixture and chopped white chocolate in a heatproof bowl and stir over a pot of simmering water until the chocolate melts and the mixture combines (if chocolate splits, add 1 tsp of water at a time and stir over heat until mixture reincorporates).
Chill mixture until it thickens (if it is too runny, you can melt more white chocolate into it), and then pipe mixture between macarons shells.
Chill macarons in an airtight container overnight to allow flavour to mature. Serve at room temperature.