Highlights in the frame will make your home more artistic and extravagant.
The project itself does not require any special equipment, but it gives an excellent result. How to crafted masterpieces in the frame?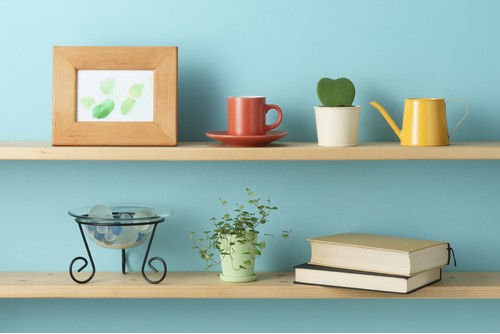 Fabrics, wallpapers, colors.
The idea to seal framed canvas with your favorite color, some interesting pattern wallpaper or beautiful lace initially sounds strange. But it was one of these can become a genuine accent in the living room. It is important that the color of the wall is in contrast to that of the frame. Suitable combinations like blue wall and framed yellow, red wallpaper or delicate white lace "embraced" by a dark frame hanging on a beige wall.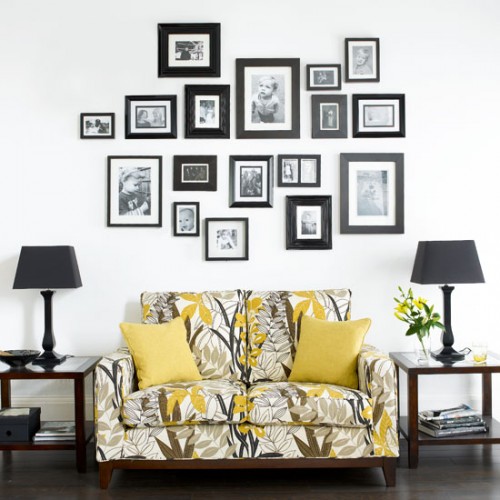 Old newspapers and some color.
A few old and yellowed newspaper can achieve miracles. Some prefer to paste tedious frame with pages of the publication, while others use the paper as the background for your project. Put in a picture frame with larger clipping so that it permeates all space. Above you can stick a small picture of yourself or using stickers or pens to draw / paste something that makes you smile.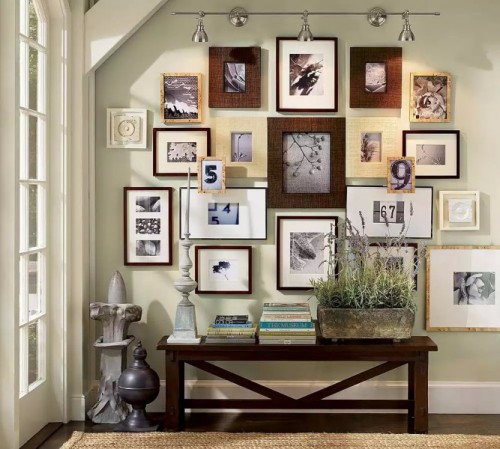 Assistance from nature.
Dried herbs or leaves framed will complement perfectly your seasonal decorations. Another option is to use them as a template for your project. Paint the canvas or a white sheet in a bright color (turquoise, red, magenta). Once dry out, put the top beautiful leaf caught you in the park. Take spray paler color (beige, ocher, ivory) and spray the entire canvas (including leaves). Finally, remove the leaves and due to its color print.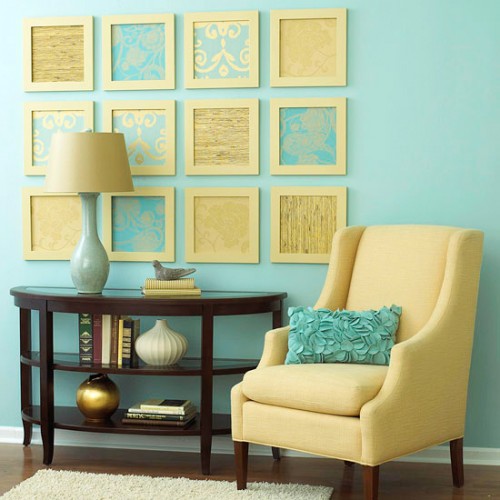 Letters, words , phrases.
Type using a needle and thread your favorite recipe , put it into a frame and hang it pride of place in the kitchen. Another option is the same principle to write the names of your family members . Both ideas require more time and patience , but the result is worth it .
NazadGaleriya " word " love " in the decor of the house" more
Those who have previously liked to pun (ie . Scrabble ) can borrow a few tiles with letters and to write something that inspires them ( love , happiness, luck) . Glue the letters of some of the wallpaper and the whole composition in the stack frame.
In the framework can put only one letter (the first letter of your child, the family, your name), whole word (as in the idea of Skrabals) or type your favorite phrases that inspire you.
3D with available materials
You do not have to put any framework and glass. Especially, in the embossing compositions, it is not necessary. 3D accent can make from available materials . For example, different buttons the figures , signs , symbols . You can also crafted flowers from tissue paper in different colors and to " arrange " a bouquet of flowers in a frame.
Absolutely unconventional
Bold , but many art is the decision to arrange the wall just a few picture frames – empty without glass and backless , different sizes , style and even age. For some sounds too unconventional , but for others it is the perfect accent for your room .