Break garden decor with several original pots

your

production.
See how fast, easy and economical to craft an original pots for the garden.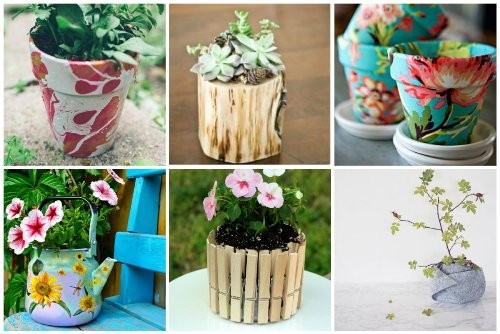 Old kettle pot
Do not rush to dispose of old metal kettle. Clean it well and glue the bottom edge a few flat stones and top decorate with stickers or decoupage technique.
A clever idea for the old kettle
How to revive the old kettle, making it a beautiful addition to your home decor or garden?
Flower pot with nail polish.
In a bucket of water pour a few different color nail polish and gently mix. Take an old ceramic pot (possibly with a lighter color) and immerse in the bucket, so to catch the paint.
DIY: flower pots with nail polish
DIY flower pots with water and nail polish just 3 steps – see how!
Pot of fabric.
Surely you have other pieces of cloth or old tablecloths. Use them to decorate the pots on the balcony. For this purpose Spread pot with glue and carefully oblepyate with fabric. The idea is ashleyannphotography.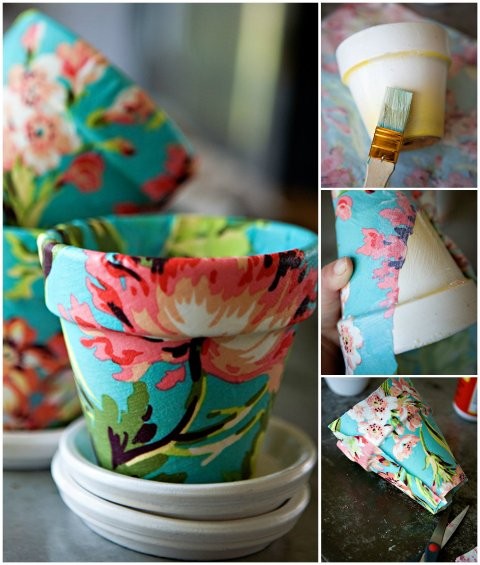 The other option is not to cover the whole pot, but wrapped only part of it, as did blogger lanared.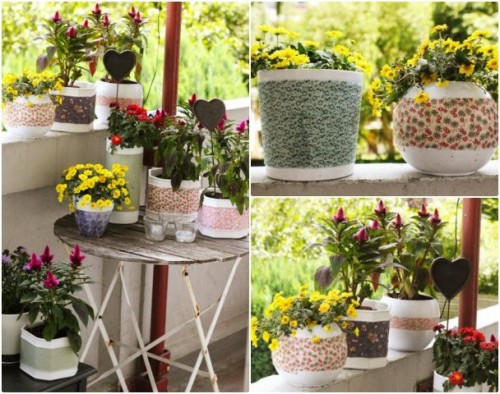 Pot of coconut.
If you like exotic fruits, and in you by chance have a shell of coconut, it is ideal for making a hanging pot for home. Once cleaned and wrapped in places with colored tape or foil tape for more mood remains only its drill holes and spend them in twine.
DIY original pot from the shell of the coconut. See how to hanging pots crafted from coconut step by step.
Pots of felt
Make interesting pots of felt. To do this you need a large enough piece of felt, scissors, pencil and line, needle and thread. See how:
Pot of log
If you got a piece of wood in the form of a small log, use it to make a spectacular pot for indoor plants at home. All you have to do is izalbaete most of its interior and gently polish it to avoid splinters.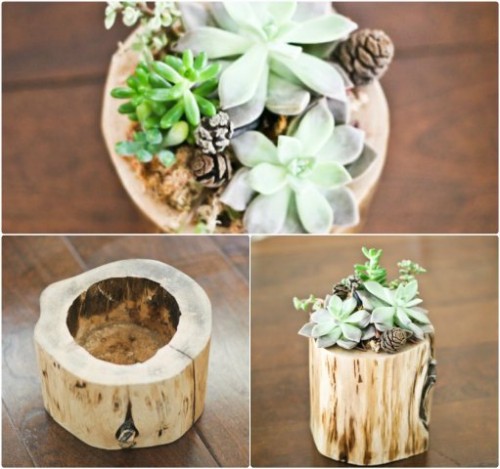 Pot and dryer plates.
Employ practical and look for original pot and dryer plates 2 1. Environmental izobrenie follows the principle that nothing in nature is not lost – so the water from the wet plates will serve as a living indoor plants at home. – Pot and dryer plates