Evergreen ivy with its soft, flexible branches and rich foliage is the perfect dekoratorsko solution for the garden and home for those of you who wish to transform

the living space

into a cozy

green oasis.
Here are some ideas on how to do it: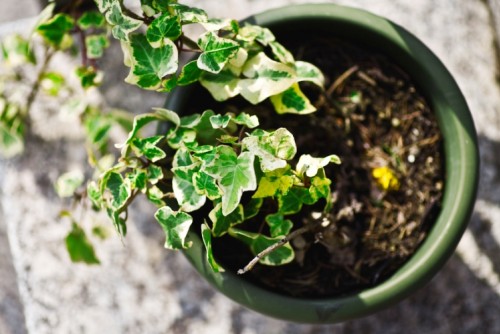 In the garden
Ivy is the most popular representative of evergreen climbing shrubs, which finds its place in the home garden.
His nature predisposes its use as a natural setting for gazebos and sheds. In addition to create a romantic atmosphere, thick wall that forms will protect against bright sunlight, making the pergola in true green oasis during the summer months.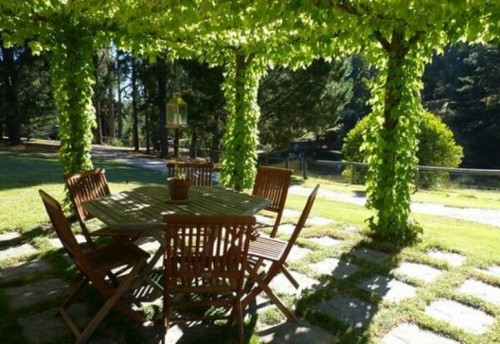 To achieve the effect of natural green wall place several large pots (the number depends on the size of the gazebo) at the corners and attach the branches of the plant on the wooden grille to allow it to grow and wrapped according to your preferences.
Ivy will be highlighted and if planted in the ground and let to grow on the outside wall of the house. The aristocratic charm will contribute to the original, yet refined appearance of the building.
For greater effectiveness you can include different kinds of ivy placing them close together. They will intertwine, creating a pageant of iridescent tones.
The interior
Of course, not ivy plant which must be grown outside. On the terrace and the premises can also make, like the garden arbor ivy wall.
Table decoration
The clean look of ivy allows you to experiment and be included in the decoration of various objects and parts of the home.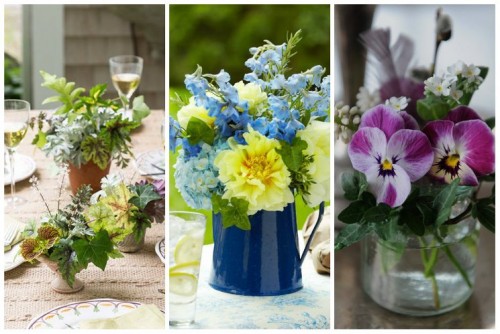 Beautiful and simple decision table is to place a basket with flowers or fruits to decorate with sprigs of ivy. In an extravagant idea to make a makeshift candelabra of old tile on which to place a wreath of ivy, dried flowers, orange peel and in the center put a round candle.
You can also enrich fresh bouquet of flowers by adding ivy in the vase.
From ivy can make a wonderful decorative wreath for the front door or use it as a live picture on the wall in the kitchen – everything depends on your imagination and creativity.
live curtain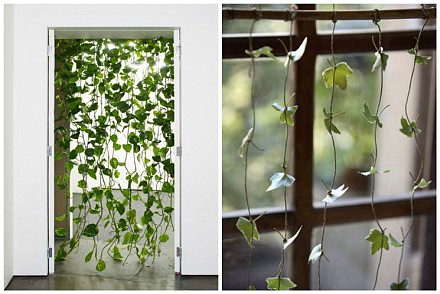 Original decoration of windows or makeshift curtain door? Why not. Attach several pieces of string on himself cornice curtain or door frame. Wrap them around twigs natural or artificial ivy.
Optionally, you can decorate the window sill with scented candles for a romantic finish.