We love this Valentine's Day Breakfast idea!
We absolutely love creating fun foods for our loved ones too.
Check out our super simple Valentine's Day Heart Shaped Pancakes we made!  Oh and in case you missed it, we also have some other really cute ideas for Valentine's Day too.  We have our Valentine's Day Heart Wreath and we have Valentine's Day Lollipops made from Candy Canes!  You've just got to check those out too!

It only takes a tiny amount of creativity to come up with these cuties.  Well, creativity with food coloring and a cookie cutter.
To make these cute pancakes all we did was add a couple of drops of red food coloring to our pancake mix.  Then once they were all cooked we used a Wilton Cookie cutter to make those fun shapes.  (Tip:  Be sure to use the metal cookie cutters because they cut better without tearing the pancake)
I'm not a big fan of going out on Valentine's Day either because I don't like to fight the crowds.  I would much rather make a home cooked meal that we all can enjoy together.  My honey seems to like that too.
How about you?  What are you planning for Valentine's Day?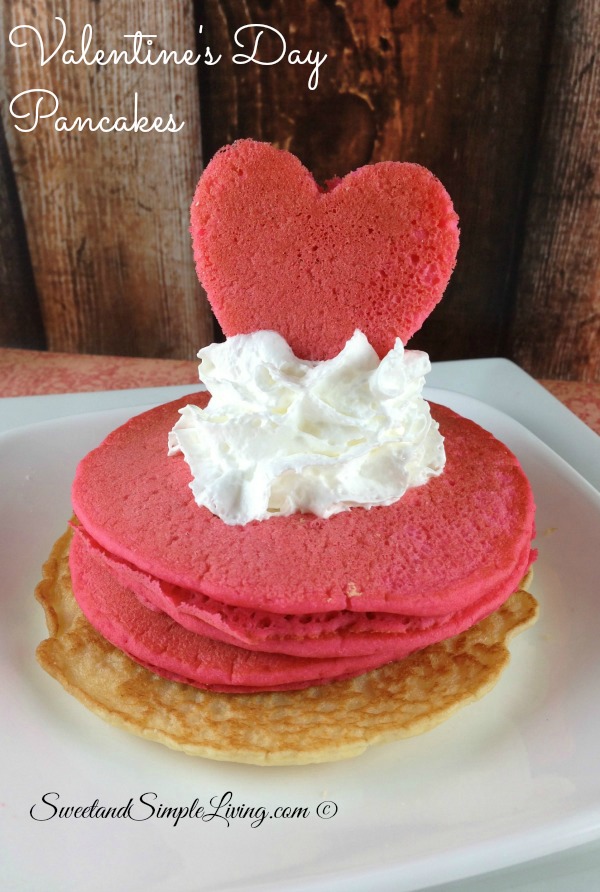 Image Courtesy: http://sweetandsimpleliving.com/valentines-day-breakfast-idea-heart-shaped-pancakes/
Source: http://sweetandsimpleliving.com/valentines-day-breakfast-idea-heart-shaped-pancakes/